Fliki Ai Review: Create AI Video Earn $1000/Mo using Fliki Ai 2023
Fliki AI, Do you ever see those YouTubers that effortlessly make videos, post them every day and get millions of views? It looks simple… until you try it yourself, you realize that it's all much harder.
But don't get upset, when I'm here to give you a cheat code; one that'll change your YouTube video making game forever! I'll tell you about one such AI video making tool to help you produce the best quality videos with minimal efforts.
It's called Fliki AI. Although they're still a rather small company, you can tell they're very ambitious about their creation. They've made Fliki AI accessible to everyone; from a business owner to an aspiring YouTuber.
What Is Fliki AI?
Let's first start with an introduction of this AI video generator. Simply put, it is a text to video generating AI tool that gives you catchy videos for social platforms. With their innovative approach to video making, and video editing, they're certainly a commendable entrant in this AI world.
To use it, you start off with inputting texts into its system, which it processes and turns into eye-catching videos. For example, if you want to make animal related content, you can insert instructions like, "biggest tarantulas in the world," or "the most venomous snakes found worldwide."
The AI video-generating tool will take your instructions, run it through its system and give you optimal, informative videos, which can be short videos or longer videos.
Not only that, Fliki AI had also been equipped with lifelike AI voices that are able to narrate the video. Yes, it is just that effortless!
With this amazing text to video tool, you can produce any kinds of videos with zero problems. You don't even have to do a voiceover yourself.
Also Check: Character AI Chat & NSFW Settings
Fliki AI's Library Of Voices & Media
Fliki AI has an astounding collection of 900 realistic AI voices to choose from. Both female and male narrators are given as options. They're always being enhanced to resemble human voices, to the point where it's almost impossible to differentiate.
There are free voices, as well as premium voices. Although premium voices are better sounding, free voices are still good.
Visit Fliki AI Official Website
It can give your preferred voice in less than five minutes, which saves your valuable time. Fliki AI also has a library of visually stunning videos that fit your requirements. They're already pre-filmed, so no editing is needed either.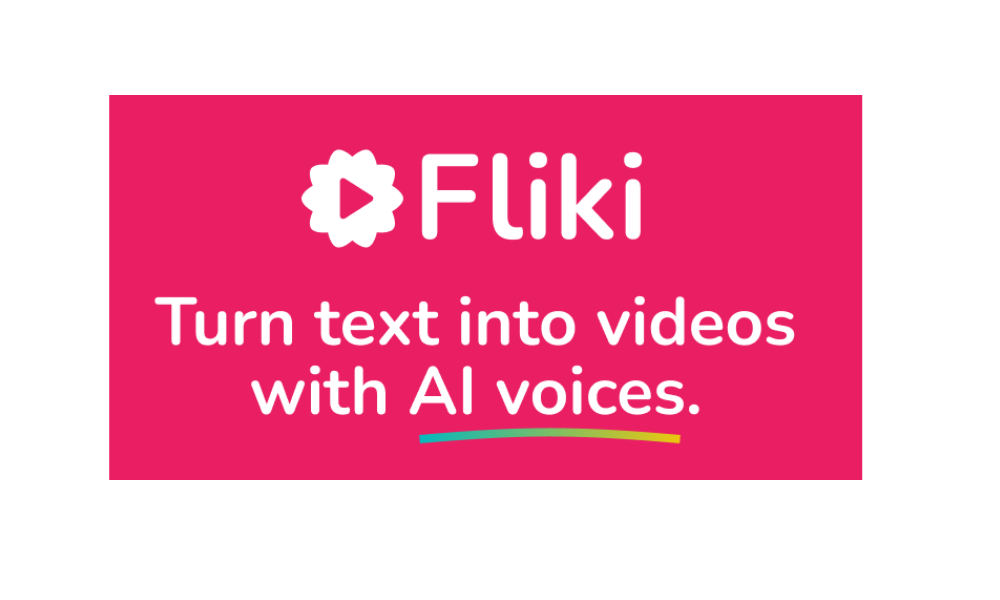 Best AI Video Content Creator
If everything else proves to fail your expectations, let me tell you something else that's great about Fliki AI.
In case you're not familiar with retention rate, allow me to explain what it is. It's a very important part of promoting your videos to the algorithm. No matter what platform you're using; it could be YouTube, TikTok, Instagram reels or anything else; retention rate is what dictates your videos' credibility.
Retention rate is the amount of time your viewers spend consuming your videos, therefore the more engagement you have, the better response you'll receive from social platforms.
But how can you do that? Well, there's one trick you can follow using the Fliki AI editing. When you're making a video, instead of just focusing on one video, add three different layers of videos on the same template.
This will allow all the three videos to play simultaneously, in other words, your viewers will have to watch the same video thrice to see all three of the layers separately, giving you more views. With this option to boost your views, Fliki is certainly the best AI powered content making tool to use, in order to establish your platform.
Also Check: How to use Midjourney AI?
How To Increase Retention Rate With Fliki AI?
Fliki has lately become a bit more well-known for its advanced editing choices for AI videos. To increase retention rate using Fliki, you can use an option called 'picture in picture,' or PIP. There, you'll find an easy way to layer your video like I wrote above. Give it a try and see how it works!
Creating Videos Using Fliki AI: Everything you need to know to use Fliki AI
You can create whatever videos you want; it could be Fliki AI reels or full-length videos. However, if you want more attention, I'll suggest you stick to rather trendy topics to gain more views.
With your chosen topic, first log in to Fliki AI from your Google account. If you don't already have an account, sign up using the required information.
After you're done setting up your account, you'll find yourself in Fliki's homepage. It's supposed to look blank, but on the top right corner, you can see an option labeled 'new file.' Head over to that side and click on it!
Visit Fliki AI Official Website
From there, choose a language, location and a file name. The file name should be the topic you desire to make a video on. Once you're finished with this step, simply press submit. Then, you'll be given options to manually choose your required voices and media.
But if that's too much work for you, and you'll rather just create videos more simply, there's a simpler option where you don't have to pick manually.
After clicking new file, delete everything else you got on the left side. Now, you'll see a different blank page, with an option 'convert' on the top right corner this time.
Tap on it and you'll be able to see something called, "idea to video." If you press this feature, it'll lead you to a few new options.
Insert a topic in the first field, then choose the length and style. For style, it's advisable that you choose 'explainer' for more promotion.
There! You now have a brand new video to post on any platform you want. But if it doesn't suit your wishes, you can still manually alter a few things to make it more suitable. You can also employ the three layer technic here to increase the retention rate.
Also Read: Best AI Writing Generators in 2023
Fliki AI Pricing
It's free to use for the most part, however, there are some premium options that come with different prices. If you want to be more professional, you can opt for the paid choices, but the free options are good enough to make great videos.
That's all, have fun being creative with Fliki AI, folks!
FAQs About Fliki AI
Is Fliki AI free?
It's not completely free of charge but it has more than enough free picks to make your videos with.
Can I use Fliki AI for YouTube?
Of course, you can. You are able to make any kind of YouTube videos you want with this tool.
How good is Fliki?
So good that it gives you incredibly high quality videos & voices!
Is Fliki safe to use?
With its strong encryption of data protection, Fliki is one of safest AI tools out there.
Is Fliki easy to use?
A little bit of time is all you need to use Fliki very easily. It's time saving and simple to understand.
Also Check : 10 Best AI Art Generators in 2023