UK Work Visa: How to Get UK Work Permit Visa in 2023
Nowadays, the United Kingdom (UK Work Visa) needs plenty of workers for their void workplace. Every year, this vacancy trend increases by a very significant number. In this regard, worldwide people have a great opportunity to take advantage of this and fix their all financial difficulties. However, most of people have no proper knowledge about this work permit visa and how many types of visa are recognized as a work permit visa. 
Types of UK Visa?
First of all, six temporary Worker routes for those who want to come in The UK for job purposes, and, for example, the Creative Worker visa; Charity Worker visa, the Religious Worker visa; Government Authorized Exchange Worker visa; International Agreement Worker visa, the Seasonal Worker visa, etc. are the main type of visas provided by the UK government.
Eligibility Criteria for UK Work Permit
Secondly, as a candidate for this type of visa, we have to know whether we are eligible for it or not.
Work under a UK employer, and that's been approved by the Home Office.
Having a 'certificate of sponsorship' from the employer with appropriate information about the role you've been offered in the UK.
Doing a job that stays on the list of eligible professions.
Should you get a minimum salary: depends on what type of work you do for fixed hours per week.
UK Work Visa Requirements
As a candidate of working visa, first of all, you have to take part in IELTS exam which conducted by IDP and British Council and you can take both IELTS academic and IELTS general training. In addition, by securing at least overall 4.5 and having no band less than 4 in any module very important for getting visa as well as being eligible to this visa procedure. Furthermore, you have to find your desire company by searching in indeed or google and apply them. After apply in the company and getting offer letter, you have to pay a minimum wage to UKVI for secure the CAS interview. However, there are a lot of procedure should be followed for going to work permit visa. Such as:
An application form.
2 color photographs taken within the past 6 months.
A valid passport.
Proof of financial means to cover UK living costs.
Proof of accommodation.
Detailed travel itinerary.
Tuberculosis test results.
Biometric information.
A visa invitation letter if the individual is staying with a friend or family member.
Paid UK visa fees
Certified translations of any document that's not in English.
Also Read: UK CAS Interview Questions and Answers for 2023 (Sample Answers)
UK work permit Visa interview
After applying to the company, some company prefer to take some interview for reviewing the quality of the employee. Thus you have to face some interview towards the employer. After facing all interviews, some employer suggest to take part in necessary online training or company provide some specific training before joining with them. Sometimes, this online training can costs some additional fee starting from 4 or 5 pounds to several pounds. When the company send all necessary documents including sponsorship, you have to look all information correctly especially the payment per hours, because the UKVI have strict rules to get minimum 10 pounds per hour. If you find out that you get less than 10 pounds, you should not to later process, as you cannot get the visa for the regulations set up by UKVI.
Candidate should apply for a UK visa 3 months before they want to begin working for company. Visa application processing can take up to 3 weeks, so it's very important to apply early at an application center or online through the UK Home Office Visas and Immigration Services website. The procedure have requirements and evaluations change for each tier, and some categories may have additional requirements, so make sure you know what it need to apply. The UK has announced plans to fully digitalize its immigration process and permissions by 2025.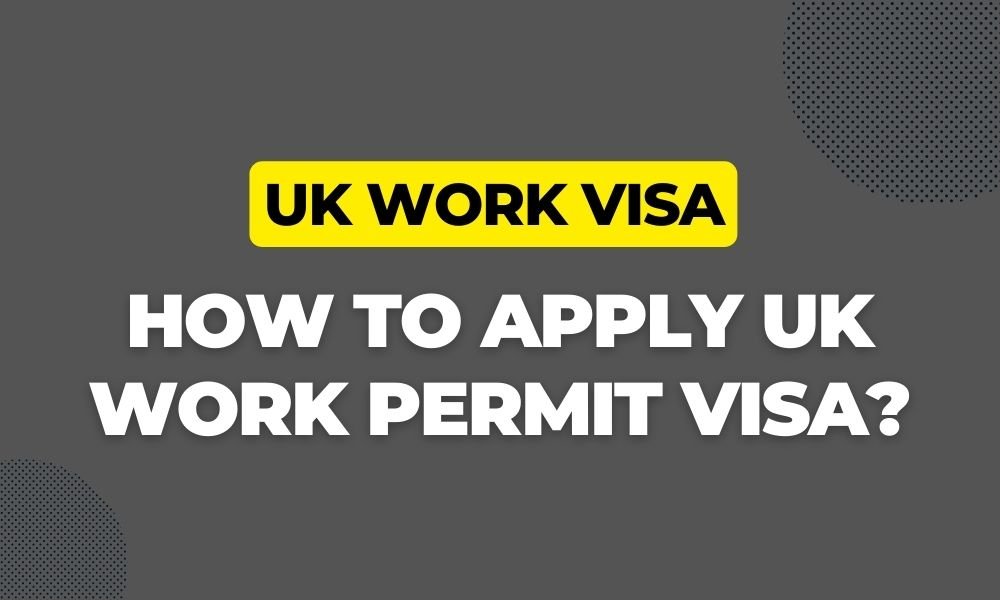 How To Apply UK Work Permit Visa?
For applying to work permit visa in the UK, you have to ensure proper bank statement which declare that you have enough financial assets to survive in the UK and cover up whole expenses. For this, you have to go bank for making FDR or any kind of account which can support enough to get the proof of financial statement.
If you had ever traveled to any other countries, you have to provide all details regarding the visit as well as all supplementary papers which can support the legal movement from one country to another.
Also Check: Top 10 UK Scholarships for International Students in 2024
TB Test Required For United Kingdom Visa
Tuberculosis test results (TB Test) are very important for the UK and there are some shortage of dedicated center which can examine the test and send the necessary documents to the UKVI. So to avoid such circumstance, you should take appointment as soon as possible from the test center up to 1month ago.
Following the TB test, you have to translate all necessary papers which are not translated in English. For doing this, you have to go the education board and translate all educational certificates and also to go notary office for notarized all documents if needed.
After doing all this, you have to take appointment from VFS global for submitting all documents to get positive decision. By taking appointment, you have to give visa fees as well as give biometric information, for instance, giving finger print and taking picture.
You can Check: Denmark Student Visa: Requirements and Application 
Moreover, completing all necessary steps in VFS office, you have to wait patiently almost 3weeks for getting positive decision. The authority send email by stating the status of your visa process and after getting email, you can collect your passport as well as all documents. Then you have book plane ticket and should prepare for the upcoming events regarding the job. After reaching the UK, you have to ensure you can work efficiently and effectively.
Also Read: USA Scholarships for International Students in 2024