How to Apply De Montfort University 2023 (Fill Up Application Form)
De Montfort University is one of the most popular university in the uk, there are many country students wanted to study on DMU. In this article I would like to describe how can a student apply to De-Montfort University.
My main focus is to help all applicants through online in the De Montfort University 's online portal. Here I will detail overall application process as well as include recent asked questions and answers.
De Montfort University Registration process
DMU registration website link for the online portal is: www.dmuhub.dmu.ac.uk/apply/index.htm
In this part I will describe how to access the Online Portal for registering on DMU. First of all you will need to open it in your internet browser, for the online portal the URL can be found on De Montfort University Course admission website and it can also be found on the International Application webpages. When you will access the page, you will find the home page look like below –
However, on the Online Portal it's totally different that what you will need to do and how you access the page because it's depend on the type of applicant are.
New Applicant= If you have never applied in the Online Portal before,and you haven't been a previous student at De Montfort University then you are a new Applicant.
Returning Applicant= You included this section if you have already registered on the online portal.
Recent or Previous student= You fall into this sector, if you are currently enrolled at De Montfort University, or have previously studied that University.
New and First time Applicant:
For the first time if you want to register at De Montfort University or you haven't registered online portal before, you will have to click the New Applicants button. Then you will find the registration page where you will access for registration.
Then you will need to complete the form with your basic information on the registration page. It is necessary to make a valid and current email address and you should apply it in this process, because you be sent a verification email with further instructions.
After completing the registration form by clicking on submit and the form is filled out correctly then you will be sent a verification email which called User Account Verification
Returning Applicant:
When you have already registered for the online portal and completed verification that is called returning applicant. At that time you can logon with your Username and password as soon as possible. If you are facing any issues in logging please refer to the Frequently Asked questions.
Current DMU Student:
If you are a recent Student or a previous Student, you can apply online courses by using the New Programme Application tile in MyDMU and you can also continue to the Application (Online) Portal Tiles.
Also Read: How to Apply for UK Student Visa?
User Account Verification:
If you are not first time Applicant that you are a retuning student , this portion is not for your applying you please skip too-
After applying successfully you will get the below screen notifying you that an email has been sent, you will unable to login properly without first instructions in the email.If you are facing issues logging in.
The email you receive will occur as below:
In your internet browser you will have to click on the link in the email as well as copy and paste after that you will verify your user account and you will be able to login with your user name and password.
Also Read: Student Visa Requirements: A detailed and ultimate Guideline
Step by Step How to Apply De Montfort University?
After logging in successfully, you will see the screen which contains four boxes and I will share it in the below and it will be reffed to as Tiles going forward. Every boxes have their own use in the application process.
The boxes includes that:
Create Application – In this part will be able to apply for a course at De Montfort University, for first time Applicants you should choose the first tile.
Admission Portal – Here your application are saved properly and you can see their status and continue with them.
My Admission Requirements- This part is where you can find what is necessary from you to have your application to study at DMU approved.This Tile should only be used after you have already applied.
Upload Documents – In this section you can upload any files that is needed in case of your application process for example, CV, Passport and Immigration Documents.

When you are using a Tile, the top left corner of your screen will have some additional buttons. The Left arrow will take you back to the previous screen, the House will take you to the Home Page.
Applying for a course
Create Application: For applying any course, you will have to click on the Create Application Tile. The others will be utilized a later point in case of application process. There are two parts in Application Process such as Preliminary and Course Specific.
Next you will be taken to the preliminary application form where you will need to choose a course and add some personal information in detail.
Preliminary Application Form:
This application form is mostly used to commence an application for a new course and able to know your some personal details.Then it is used to share the foundation of your Specific Course Application
There are two sections of the preliminary application form such as Application Details and other is Personal Details. Your information in Personal Details section which you put will be saved and you will appear any future applications you may take. It is crucial to remember that where there is a drop- down box to use it instead of typing information in.
Application Details:
In the application details section there are a number of drop -down options, these will bend the later options available to you. You have to choose the drop -down options in miserable order. This order is:
Type of Student
Program Type
Program of Study
Academic Year
Academic Session
Full Time / Part Time
Hidden Options –
When you have completed the above instructions the below part will become available.
Distance Learning
Level
Campus
Specialisation
Award Aim
Any option which marked with a red asterisk (*) is an important section for your application. If you are having any problem when filling out this section, please refer to the Frequently Asked Questions section.
You will have to choose the type of Student you are aiming to be at De Montfort University for this application, because it is mendetory options to you when choosing a Program Type.

In this portion you should select a Program Type this will help you to choose a course in the program of Study drop -down option such as selecting Undergraduate which means that only Undergraduate Courses will be available to you. If you are confused that which Program Type you should select, you can contact an Admissions Office for more information.

Now you will be able to select the Course you want to register for,by choosing it here. In this box each and every course name and course code available. If you have faced any problem or difficulties in selecting any course or if you need any help about information please contact the De Montfort University Course admission website also you can refer the Admission Offices.
The Academic Year means the start year for your enrolled if successfully complete.The Academic Year is from 1st September to 31 August. Such as, selecting 2023 or2024 that means your course commence year will be between September 2023 and August 2024.
For you selected course when you select specific month date for entry you should use the Academic Session drop -down section. If choose intake October 12mth then you have to apply for an October Start date for your selecting Academic Year.
Selecting Distance Learning is if you want to apply for a course at De Montfort University, without physically attending the campus.
Choosing Full Time or Part Time is which you will be applying for either Full Time or Part Time study, it is crucial to know that these section may not always be available for all course choices.
Level
If you want to apply study level this level confirm to the starting year. Every level assembles to a matching year of study.
| | |
| --- | --- |
| Level | Year of Study |
| Level 3 | Foundation Year |
| Level 4 | 1st Year |
| Level 5 | 2nd Year |
| Level 6 | 3rd Year |
| Level 7 | Postgraduate Taught (PGT) |
| Level 8 | Postgraduate Research (PGR) |
In these level every type of programs are available to apply which you have chosen as well as De Montfort University's all requirements what is currently accepting for application process.
Also Check: How to apply Canada visa
Campus:
Yo can choose your campus:
Here is the option that you you will select a location as you wish. Depends on your course which you have chosen on the available campus.The only option are found on De Montfort University Leicester for majority courses.
Specialization:
Choose Your Specialization
You are able to select a specialisation for some courses, when you start your studying this will effect all modules. If you want to get more information to the De-Montfort University Course you should refer DMU course website and search your chosen course that you have applied for.You can also contact an Admission office for other information.
Award Aim
At the end of your course you will qualified for an award which you aimed this is called Award Aim.There are several qualifications to choose from university for some courses and these are based on the Program Type.
Before qualified for these Award Aim students can complete the graduation and receive a degree for.
For your course the correct qualifications that you choosed are crucial as this can impact the modules available to you for study. For more information I already mentioned that please refer to the DMU Course admissions website and look for your chosen course there.As well as you have to contact an Admission Office for other information.
Completed Application Details
A Completed Application Details section should be like the below.
This section are about completed Application details and in the personal details section you have to put your personal information. When you registered such as for current students, it's pre populated from your personal record ) your first and last name will be included.Here main mandatory information are Date of Birth and Nationality.
When you enter your Date of Birth,it must be in the DD. MM. XM format, as well as you have to use the Calendar button instead of typing it in.
For Address Details section, you will need to input an address in this part you should use a current and valid address.From your Student Record your email will be pre-populated it's only for current students. Here all sectors are mandatory
Completed Personal Details
A completed Personal Details section can be seen below.
Personal Details
Submission (Preliminary Application Form)
After completing the form, you will have to click on apply to submit your form and continue to the next step
When you clicked Ok,then you will be received an overview screen where you will continue your Course Specific Application. Your current application process will have been saved and from your Admission Portal Tile you will get the current application status.
In your processing time if you have any issues then you must refer to the Frequently Asked Questions section
Application Overview
This part gives an overview briefly of your application status, because your overall submitted application is processed by De-Montfort University , the information of this page will update to reflect this. You will be able to this application through the Admission Portal Tile.
There are three tabs on this screen, they are:
General – This tab gives a small amount of data about your course
Fees – Though your application is processed by the University the data on this tab will update with an estimate of what is your University fees will be for your starting year of study.
Documents – This will provide with information on Documents you may need to upload.
In this section like the Admission Portal Tile is a main hub for your application, in the tile you can access with any unfinished applications and viewing the status of complted applications also. Then when you click enter, you will find a screen like the below. Here in this portion each application you make the the University will be saved on the online portal.
As well as you will be able to commence a new application here
If you press on an existing application here, you will be taken to the Application overall for that application.
You will then see your Course's Application form.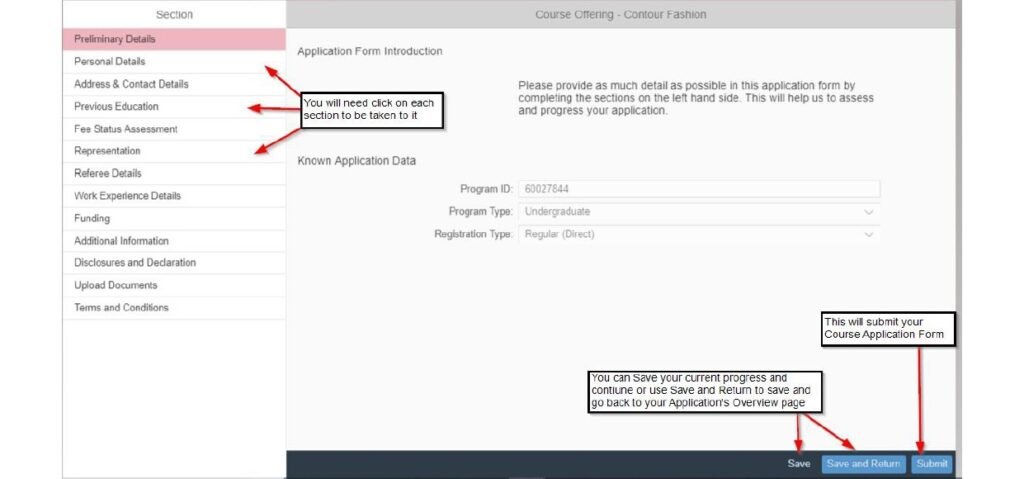 There are a number of sections of the Course Application form. You will be asked for the information and all sections to put in slightly between courses, however, the application forms follow the same template. Moreover, when you will complete the form, you will have noted some important things.
When you provide an answer for some questions other questions will appear depends on your answer. This is only for more information that being needed.
After completing the form, you will need to click on this icon to open a help window for the question.
Red asterisk (*)is a mandatory field with any option marked for your application.
Here you can save your recent process and get back to complete your application using the Admission Portal
At the top of the screen you can use the house icon to go back to the home page, you should make sure that you save your application first.
Now you have to need for entering information using drop downs, radio buttons or the areas where you can type your information in.
Course Application Sections
Preliminary Details – In this category a few read only data about the course you are registering and also a brief introduction to the application form.
Personal Details – This personal details section gives you with a chance to change and check overall data you have entered previously. You have to add other information here.
Address & Contact Details– In this section you can check the address which has entered earlier is correct and keep in confirmative contact details.

Previous Education – This section are mainly an option to add qualification details, it is referred to add your highest – ranking qualifications as well as an English Language Qualifications.
Fee Status Assessment –In this portion International Students that may require a Visa,if you're not interested to live outside London or Europe, you will have to select " No" in this part. If you select "Yes" you have to complete the rest of the major field here that will appear, for confirming Visa status you will be asked and recent international addresses also.
Representation – In this part students have their application handled by an agent, you have to choose "No"if it is not applicable to you. On the other hand, when you choose "Yes" you will need to share Agent Consultancy as well as some supporting data such as Name, Address and Contact details.
Referee Details – In the section you are able to add in a referee 's overview, and the person who can give an academic and professional reference of you.

Work Experience details – Here you have an option to add overall experience you may have.
Funding – You will need to choose from the list of options you resolve to pay your university funds.

Additional Information – In this portion students are depending on the course you have registered for.
Disclosures and Declaration – In this section you will have to disclose when you need support and also have a disability that the information submitted in this application form is safe to your knowledge.
Upload Documents – The Upload Documents and the Upload Documents Tile are almost similar. If you click this Upload Documents you can open your file explorer where you can choose and upload a file.
At this point you can start for uploading any of the following documents, for example, Degree Certificate, Transcripts, Experience letter, Motivation letter, References and Evidence of English Language. Then you can use the Admission requirements Tile to confirm other documents are needed from you.
Terms and Conditions – You should to read and accept the Terms and Conditions to be able to submit your application form successfully.
Submission (Course Application Form)
After completing every above mentioned section of the application form and you are confirmed to provide, press on Submit in the bottom right of the screen. It is crucial to be aware of two things before submitting:
You have to complete all mandatory areas, if you are trying to submit without completing main fields you will focus the below –
After submitted once you will unable to make any changes to the information you have submitted without contacting the University.
After submitting your application process successfully, you will appear a message on your screen which advice you for checking the Admission Requirements Tile ( you should click on the House Icon to get back to the home page) as well as you will get back to the Admission Portal.
Right away your application has been submitted, and the application screen will update to reflect overview. After that there will be new option for withdrawing. Print and preview your Application.