DAAD Scholarship 2023-2024: Fully Funded DAAD Scholarships in Germany 2024
The DAAD Government of Germany Scholarships 2023-24 have been announced by Germany. DAAD Scholarship is Germany's most comprehensive scholarship program for all international students. This scholarship is available to students who have completed full-time master's and doctoral degree programs at top German universities.
Participants will attend prestigious German universities to further their education. Every year, the German government provides financial assistance to approximately 100,000 German and international students. this scholarship is fully funded that's why the German government will pay for all of the expenses.
Masters/MPhil, MBA, LLM, and Ph.D. programmes are provided in a variety of academic fields. The Master's Degree will take 12-24 months to complete (depending on the institution) and the PhD will take 36 months. International students from all over the world are flocking to Germany. daad scholarship is one of the most popular scholarships in the world.
What are the Benefits of Government of Germany Scholarships for Students? Because the scholarships are well-paid. You will be paid between 800 and 1200 Euros every month, as well as airline tickets. This is completely free and don't need to pay the application fee. They're all taking applications for 2023-24.
There are no tuition fees at German universities. In Germany, there are numerous Fully Funded Scholarships available for the year 2022. The following is a complete list of the Government of Germany Scholarships for the years 2023-24.
Details About Government of Germany Scholarships 2023-24
Scholarship Country: Germany
Daad Scholarship Funded by Federal Ministry for Economic Cooperation and Development (BMZ)
Financial Coverage: Fully Funded
Course Level: Masters/MPhil, MBA, LLM, PhD
Duration: 12 Months, 24 Months, 36 Months
Deadline: Varies from University to University
DAAD Scholarship Coverage
The DAAD Government of Germany Scholarships for Masters and Ph.D. and this is fully funded scholarships for international students studying in Germany. It will cover all of the costs of studying in Germany for free.
Full Tuition Fee Covered.
Government of Germany Monthly payments of 850 euros for graduates and 1,200 euros for doctorate candidates, depending on your academic level.
Insurance premiums for health, accident, and personal liability.
Airfare around the world Unless the expenses are reimbursed by the home nation or another source of support, you will get a Travel Allowance.
Rent assistance on a monthly basis.
Allowance for family members that accompany you on a monthly basis.
Also Check:
Academic Fields/Majors
The updated list of DAAD Government of Germany Scholarships Program courses in Germany for Masters and Ph.D. degrees. Thousands of worldwide students from all around the world entrust their education to German universities every year.
Economic Sciences/Business Administration/Political Economics
Development Cooperation
Engineering and Related Sciences
Mathematics
Regional and Urban Planning
Agricultural and Forest Sciences
Natural and Environmental Sciences
Medicine/Public Health
Social Sciences, Education, and Law
Media Studies
Eligibility Criteria.
For applying to Daad scholarshop programs Candidates from all developing countries are encouraged to apply. You can look at the Developing Country List. you must hold a Bachelor's degree (typically a four-year program) in a relevant field. The most important thing is His or her academic degree should be no older than six years. All Daad scholarship Candidates must have at least two years of experience in their field.
Eligible Countries for DAAD Scholarship
Required Documents DAAD Scholarship
Under "Application Procedure," you'll find the application form.
A CV that has been hand-signed (please use the Euro pass specimen form: http://europass.cedefop.europa.eu/).
A maximum of two-page hand-signed motivation letter (with reference to current occupation).
Recommendation Letters for Daad Scholarship: Letters of recommendation from professors (the letters must have a letterhead, a signature, and an official stamp and must be of recent date).
And One needs an employer's professional letter/s of recommendation (the letter must have a letterhead, a signature, and an official stamp and must be of recent date).
Confirmation of employment from your home country's employer, as well as, if possible, a guarantee of re-employment.
Proof of language abilities:
TOEFL or IELTS (Test of English as a Foreign Language) (Note: We only accept an academic TOEFL) German – required for German-taught courses; optional for English-taught courses. copy of conferred academic degrees (certified) (certified translation if necessary). copy of academic transcripts (certified) (certified translation if necessary).
DAAD Scholarship Application Deadline for Intake 2024
The application deadline for the Annual Government of Germany Scholarships 2023-24 varies by course.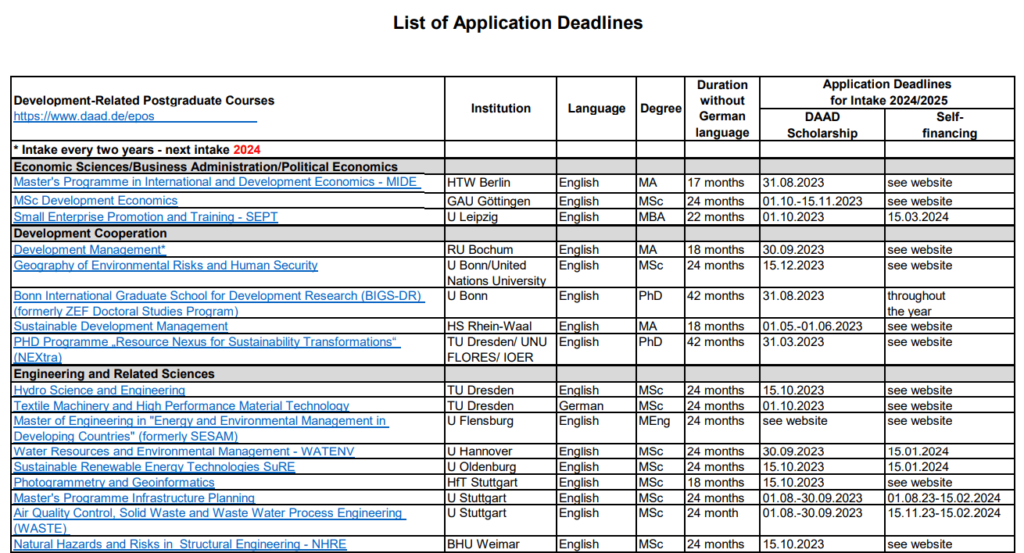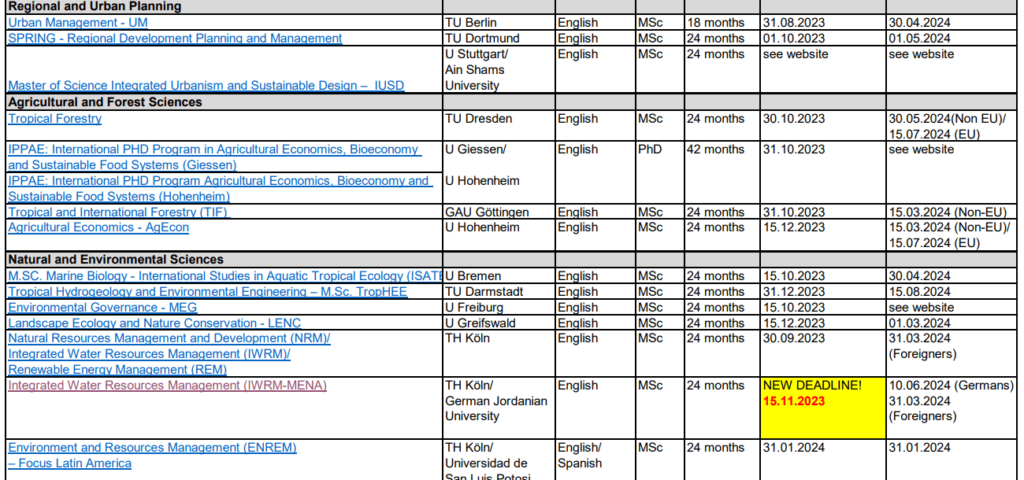 How to Apply for DAAD Scholarship?
Applicants must apply online, complete the application form, and upload the required documents.
The Scholarship's Official Announcement (Visit Here). The Deadline and Courses List is updated here.