Best 10 Online Learning Platforms 2023
Best 10 Online learning platform 2023:  Nowadays everyone wants to study at home and the easiest way to study at home is online learning platforms. If you want, you can study at home at any instructor or any university in the world.
Whether you are looking to advance your career or a productive way to pass your time during quarantine, taking an online course can make you more versatile. We offer you the opportunity to take classes that you are interested in but may not fit into your school schedule. Thanks to technology, there are various websites offering these classes. This fact can also make it difficult to figure out which websites and classes are right for you and your interests. Assessing the pros and cons of these sites is an important way to determine what works best for you and your budget and schedule.
Best Online Learning Platforms 2023
Coursera
Udemy
Google Partners
LinkedIn learning
Khan academy
Codecademy
edX
Facebook blueprint
10 Best Harvard University Free Online Courses
Coursera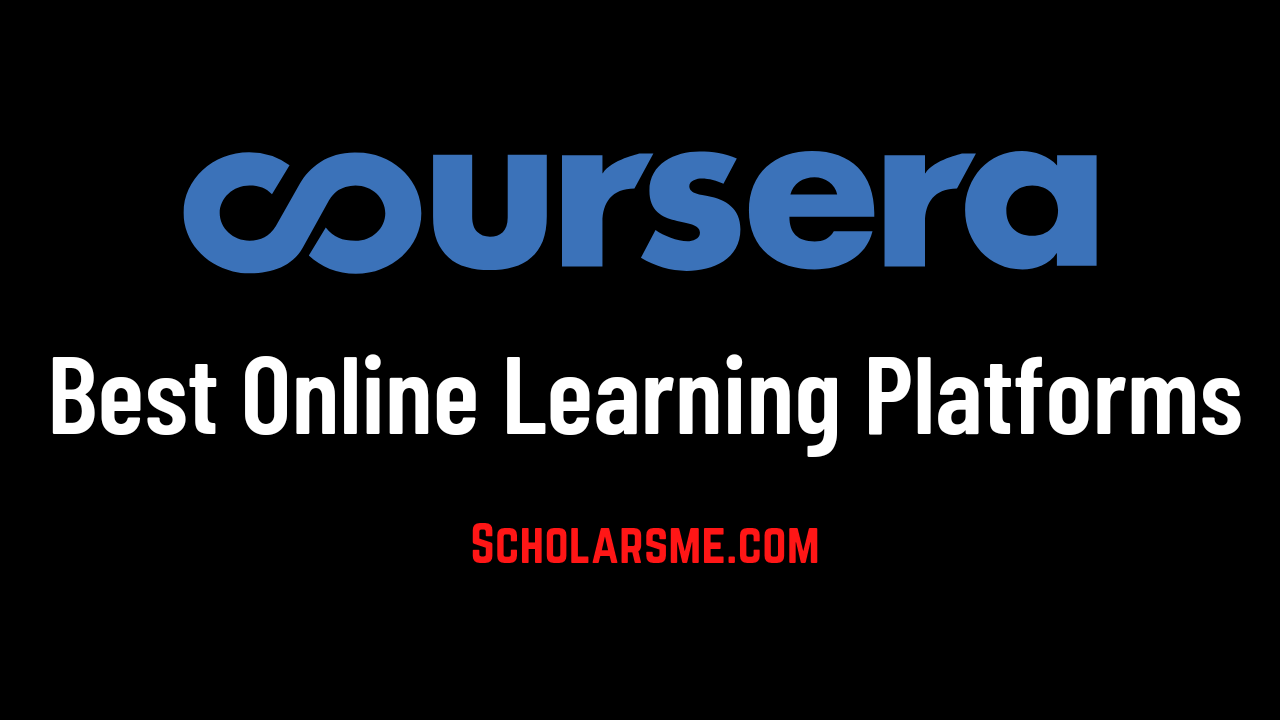 Coursera is an Best online learning platform that gives anyone the opportunity to take classes online at universities around the world. It also offers students the option to receive a certificate of completion for the course completed and specialization in the chosen subject. This will give you a deeper knowledge of what has been covered briefly in class or give you an edge in your career. Visit Coursera Official Website
Advantages
Coursera's courses are offered by universities and colleges around the world, so the courses and teachers are full of knowledge of the subject. You can audit the course for free, so if you want to learn more, you can take the course for free. You may decide to take a course to get your certificate. If you are unable to pay the fee, you may be eligible for financial assistance.
Disadvantage
Students can audit the course for free, but students who want a certificate or degree must pay a tuition fee. Some classes, especially those focused on specific software, may require access to software, which may be an additional cost to the course. While you may be eligible for financial aid, it may take up to 15 days to process your financial aid application, which may delay your learning.
Udemy Online Learning Platforms
Udemy is an Best Online learning platform that offers courses on a variety of topics, from web design to personal development. Some courses are more expensive, but many cost only $20. Courses teach students using resources such as PDF documents, PowerPoint presentations, videos, and more. Visit udemy.com
Advantages
Udemy allows you to check course information and structure before taking a course. You can see the thoughts of other students who have taken this class and use it to make decisions about taking the class. Some courses are paid, but there are many free classes. If you want to try a paid course, you can try it within 30 days and get a refund if you decide it's not for you. Also, because the sale of paid courses is frequent, there are fewer classes to pay for.
Disadvantage
There are some free courses, but some advanced courses are available for a fee. Anyone can create courses on Udemy, so pay attention to who your teachers are and look for them to verify your credentials for a subject. The free course does not have a certificate attached. Only paid courses can access discussions with the instructor and send messages to the instructor. Udemy instructors know very little about their students, so it's difficult to tailor course messages to students and interests.
Google Partners
Although Google Partners is known as the leading search engine, it has grown to offer more services such as email, web browsers and even electronic devices. Most businesses and organizations are dealing with Google when it comes to search engine optimization (SEO). This helps to increase search engine results, driving more site traffic. This results in more customers, whatever the "customers" of that organization. These organizations can buy digital ads through Google to help them get traffic. It is the basis of Google Partners, a learning platform that teaches people how to handle digital advertising and AdWords. Visit Google Partners
Advantages
Google Partners Courses are free and you will receive a certificate at the end of each course. This course can help give you the knowledge you need to pursue a new career. At the end of the course, you can take the exam to become a Google Partner who can add a special logo to your resume and business cards. This is a great way to learn about possible new careers while gaining recognition from a respected company.
Disadvantage
This course is designed for companies that sell and manage advertising for their clients. Individuals are prohibited from participating in these processes in accordance with the site's terms and conditions unless they wish to have their own business responsible for managing advertisements. Skillshop is best for individuals who want to learn these things without being affiliated with a company. However, even if you use Skillshop, you will need to renew your certification every year.
LinkedIn learning
LinkedIn is the best social media site for professional networking. Even if you decide not to use a course, you should definitely create a LinkedIn account so you can advance your career and meet people in that field. LinkedIn Learning, once Lynda Learning, is a platform that offers courses on a variety of topics related to the skills you need. Visit LinkedIn learning
Advantages
LinkedIn Learning offers a variety of courses on a variety of topics. These courses can be useful for the workplace if you want to improve your communication skills or certain software skills. When you complete the course, you will be approved for completing the course on your LinkedIn profile and you will receive a certificate. This way you can show your current and/or future employers that you are passionate about learning new things and show them what you know.
Disadvantage
If your company or university doesn't cover the cost of learning LinkedIn, you will have to pay for the service. If you have to pay for it yourself, the cost is $25 per month. However, you can check with the school to see if it guarantees graduates. If you work, check to see if your company will consider reimbursement, at least in part, or if your local library offers a way to access your courses.
Khan Academy
You may already be thinking about your schedule for next semester. If you're taking a higher-level class in science, math, or the humanities, you may be worried that you're not ready, especially if you're struggling at the lower levels of that subject. You may also be thinking about taking graduate school entrance exams and looking for help. Luckily, Khan Academy has these kinds of tools and resources. Visit Khan academy
Advantages
Khan Academy is a non-profit organization that seeks to provide free, world-class education to students wherever they may be. All aspects of Khan Academy are free. This course is designed to help you learn and fill in any gaps that prevent you from succeeding at a higher level in the subject or reviewing what you may have missed at the beginning of the semester. The site also has a variety of practice materials for the most common graduate entrance exams.
Disadvantage
Anyone can join Khan Academy to take courses, but most courses are aimed at elementary school students. This may seem like the course speaks for your intelligence if you are an older student. Additionally, you will not receive a certificate for course completion while receiving your badge.
Facebook Blueprint
Many people only use Facebook as a social media platform to connect with friends and loved ones even if they are far away from each other. But businesses and organizations are using Facebook to reach potential customers and donors, grow their business and reach more people. Because the site is constantly changing, it can be difficult to keep up with the changes. Companies can decide to hire knowledgeable people, and this is where the Facebook Blueprint comes in.
Advantages
The Facebook Blueprint is a platform that has a process for leveraging Facebook ads and other tools on Facebook to reach a wider audience. Courses are offered on a variety of topics within Facebook Advertising and Marketing with Facebook and range from beginner to advanced. Those who complete the course will receive a certificate for the course completed. Courses are relatively short and usually take around 30 minutes, depending on how fast you read.
Disadvantage
The Facebook Blueprint focuses solely on Facebook marketing, so what you learn doesn't necessarily apply to other social media sites. Following this line, the platform is aimed at those who want to learn about marketing and advertising, so all courses focus on that area. This means that people who want a variety of topics will be disappointed with this platform. If you want to get Facebook Blueprint certification in any of the available subjects, the exam costs $150.
Codecademy
In today's growing digital world, knowing how to code can help you stand out among your peers, even if coding isn't directly related to your job. Knowing how to code can help set up a professional portfolio that shows employers what you're capable of and what you can do throughout your career. If you want to learn, Codeacademy is a great place to start. Here
Advantages
If you're new to coding and wondering if you should invest your valuable time learning it, you can take a quiz and find out where your interests and goals lie. Codeacademy suggests a learning path that fits your interests. You also have the option to browse the catalog after taking the quiz and receiving recommendations. The basic plan is free, so you get free access to some stuff before you decide whether to code or not.
Disadvantage
As with other online learning platforms, the only way to earn a course certificate is to pay for Codeacademy Pro, which is currently $20 per month. Also, of course, this site is only for those who want to learn different aspects of coding, others are more varied.
Edx.org Online Courses
Like Coursera, Edx is a learning platform that allows users to take a variety of classes at universities around the world. There are courses in a variety of subjects, from science to art. The site also offers professional certification programs and "micro" degrees. Visit edX.org
Advantages
Course content is free to view and certified certificates can be purchased upon completion of the course with a passing score. Courses have specific lengths and start dates, but the content is self-paced and can work in advance if desired. You can choose from a variety of courses in subjects that you are interested in or want to further develop your skills. Most of the platform consists of courses from universities, but the site also has courses for high school students. They prepare college-level classes and college entrance exams.
Disadvantage
As with many previous platforms, the content is free, but you have to pay for a course certificate. If you opt for a certificate, you'll have to pass quizzes and assignments to receive your certificate, which can add stress, especially if you're not a good test taker.
It is important to use your time wisely, especially when you have spare time, and it shows that you have initiative. Finding the platform that's right for you takes a little thought, but ultimately, this work will help you find the classes and certificates you need to achieve your goals and stand out in your career.
Alison
If free education is what you are after, Alison is the perfect place to start your educational journey. The site offers great courses that cost you absolutely nothing and you can even get a successful course certificate. These courses are developed by industry experts from different disciplines so you can start learning what you want. Each course offers a full hands-on approach, so you are given tasks to complete and are graded in the end. Alison removes the complexity of online learning and makes it very simple for beginners to sign up for a course and start learning. Create a study group with other course friends and study together for a better learning experience.
Woody Me
Udemy is another great Coursera alternative, but most of Udemy's top-tier courses are paid courses, so you'll have to pay a fee to sign up for the course and start your learning journey. Costs start as low as $20 for several courses and go up to $100 for some courses. You will also receive a verified certificate for your course. There are many free courses that you can register for and start learning your favorite subjects. There are over 32,000 courses on the site in different categories, and you can always learn whenever you like. Courses are divided into quizzes like video lectures, reading materials, texts, assignments and real-world lessons.
Linda
If you hate paying very small fees for training, Lynda is the perfect place as it has a variety of subscription plans that give you access to a wide variety of teaching materials on a variety of topics, including Photoshop classes, CAD classes, curriculum, and more. is. And much more. A 10-day free trial is available on the site, after which you can choose one of four study plans to see if it's right for you. The basic plan costs $24.99 per month and gives you unlimited access to all classes on the site, plus new lectures and video lectures. On the other hand, the premium member will get back $29.99 per month and get all the basic privileges as a basic member. And on top of that you will be able to download video tutorials for later offline viewing and also of course you will get a better learning experience with specific project files.
Information source: Uloop.com