Ask Better Questions – Build Better Relationships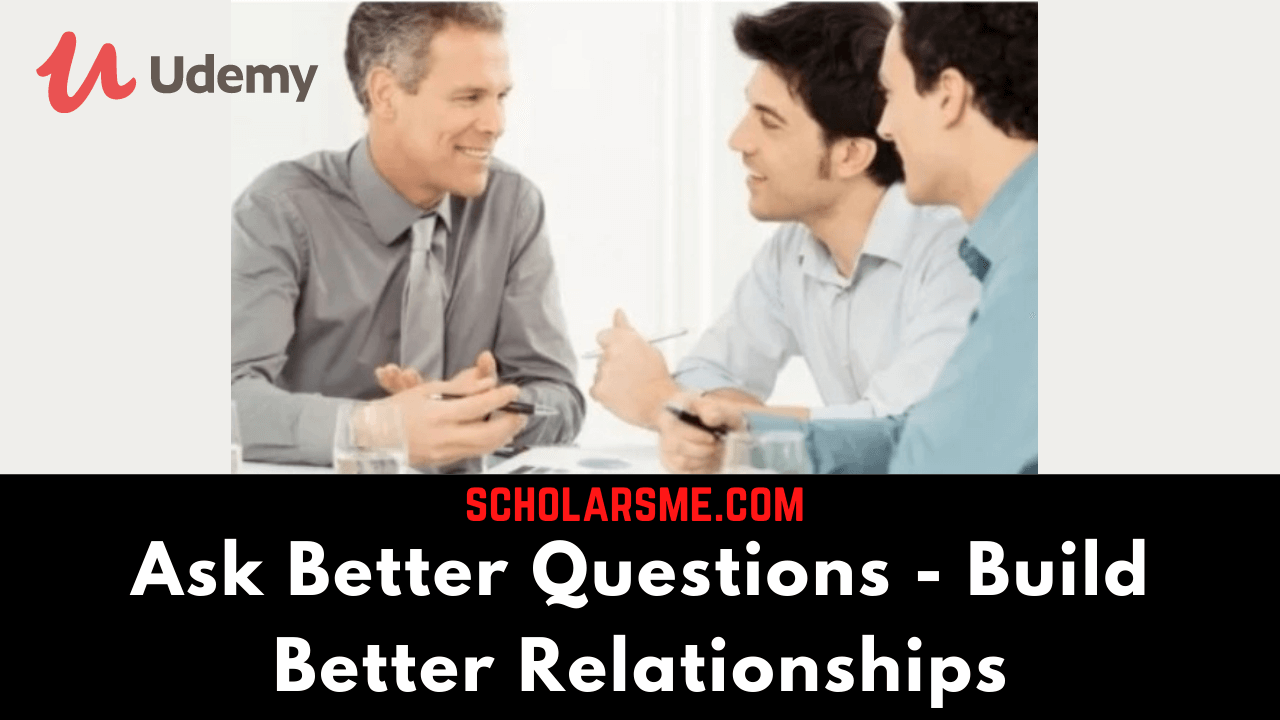 Do you know what is Relationship? Relationship is the way in which two or more people or things are connected. Every person wants better professional and personal relationships. Udemy has launched a course 'Ask Better Questions – Build Better Relationships'
Build Better Relationships udemy course
In this course you can learn Asking questions connects and engages; deepens & strengthens your relationships. you can also ask good questions reduce tension & conflict. This is one of the best seller courses on Udemy. 4.4 rating. Last updated November 2021.This course has 10 sections,36 lectures,2h 4m total length. You will get a certificate after finishing this course.
Ask Better Questions Build Better Relationships Course Instructor:
Instructor: Richard Lock. He is in People Development Profession, International Management Trainer, Speaker, Facilitator and also Business Coach helping organizations get the best from people and people to get the best from themselves. His aim is on helping people learn skills, techniques and behaviors that will add practical value in their everyday lives and relationships.
What you will learn from this course
1) First of this course you will get a welcome message. Then you know question how much matter in relationship. You will face a listening challenge, if you really want to connect with people, asking questions is key, but so is how well they perceive you listening to their answers in relationship .you can develop stronger relationships up on mutual understanding, deeper understanding of issues causing stress and tension
2) You can identify and rectify your bad habits that may be accidentally causing communication problems in relationships. You will know about two fundamental questioning strategies: Legitimate questions and disguised questions. 
3) You will listen with a new found clarity, can understand how different types of questions impact conversations, can use questions to deeply understand the motives and actions of others. In this part you will know about Specific Questions, Leading Questions, Hypothetical Questions, Probing/Clarification Questions, Reflective Question.
4) You can Ask better questions and you will develop your relationships more trustful, can deep understanding of others and their perspectives, find a way to stop judging and start listening, decisions based on information rather than assumption
Ask Better Questions – Build Better Relationships Learners Reviews
Let's know about some review who have done this course; #) Hannah N P. said a month ago that he Enjoyed the tips as well as the activities to show what the interactions may look like. It helped in understanding my interpretation of questions, and what they may look like in his own conversations.
#) David L. said a week ago that this is Excellent course! he can now have more interesting conversations with people, empowering the relationships.
#) Rohan D. said 4 months ago that it was an awesome course. He Got so much insights on questioning and listening. The course has exceeded his expectations. Richard is a wonderful teacher. Thank you very much for putting out this course.
Enroll this Udemy Course
Ask Better Questions – Build Better Relationships
Checkout other free courses